Seleksjes sneon 7-11
6 november 2015
Útslagen 7-11
6 november 2015
Efkes Balje
Nei sawat 10 wiken ûneven soe it moai wêze at er jûn in even oantal komt. Mar tink no net dan gean ik mar net, mar tink just, dan gean ik mar wol. 19.30 oere.
SDS 1
Yn de tredde klasse A nimt SDS 1 it moarn op tsjin Delfstrahuizen 1. Beide ploegen hawwe 4 punten út 8 wedstriden en steane dêrmei ûnderoan. It belang om oansluting mei de rest fan de teams te finen is grut, want NOk, de tredde fan ûnderen hat al 8 punten.

SDS VR1
De slach yn Starum, sa meie wij de striid fan QVC VR 1 – SDS VR1 miskien wol neame. SDS stiet op nû 1 mei 18 punten en QVC stiet op nû 2 mei 14 punten.

Tige by tige!
Sporthal De Greidhoeke hat SDS in stik of wat kratsjes mei bidons kado dien. Hjir binne wy tige wiis mei! Tige by tige!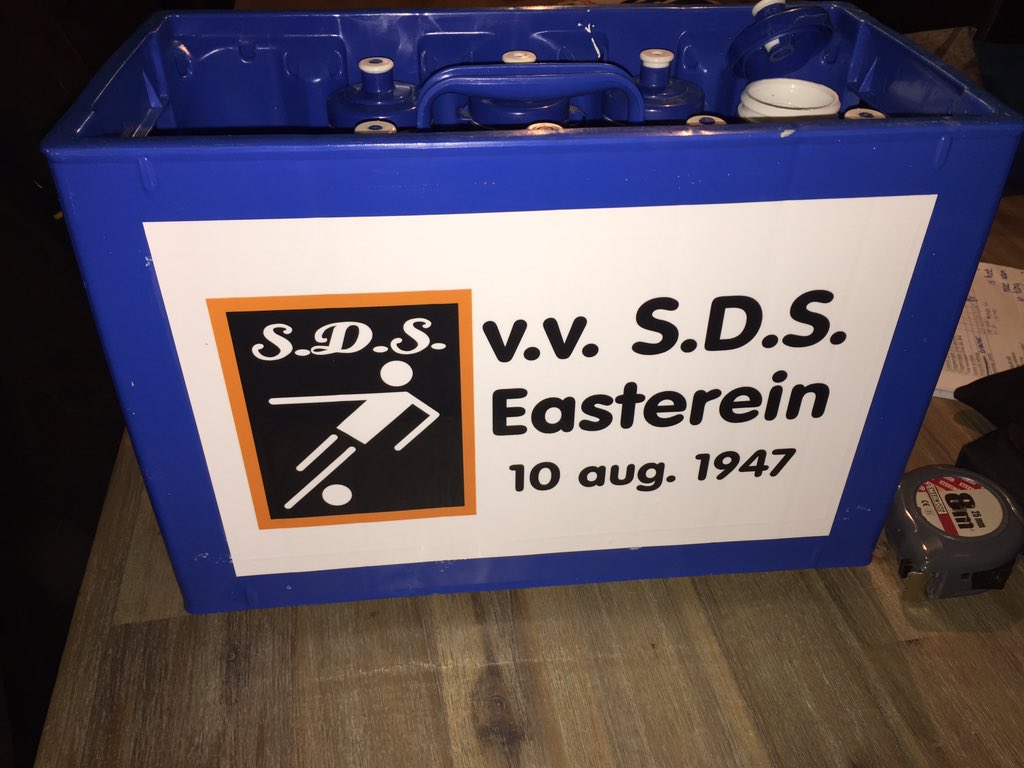 Lokwinske!
Wiebe Heeres koe fannacht om 0.00 oere dan eindelijk syn earste bierke keapje. Hy is 18 jier wurden! Fan herte lokwinske!!

Lokwinske (2)
Anneke van Beem en Jan-Simon Jelsma binne juster de grutske âlders wurden fan lytse Jildou. Fan herte lokwinske! Ek grutte sus Jannieke en de omkes Bram en Sjoerd fansels!!
SDS-er der op út
Ek dit wykein is der wer in SDS-er op út nei it Ingelske fuotbal. Ien fan de wepmasters sil sneintemiddei om 16.00 oere fêst dit liet meisjonge en grutte kâns dat sels syn burd einepikefel krijt.

Noch in SDS'er der op út
Der is dit wykein noch in SDS'er nei in wedstryd yn Ingelân. Jacob-Klaas Haitsma sit no op de boat en sil nei de wedstryd Sunderland – Southampton.

En noch mear SDS'ers der op út!
Syb Overal makket hjoed ek de oerstek it Kanaal oer. Hy is mei heit Klaas en broer Samme dit wykein nei Fulham – Birmingham City!

Peppi & Kokki
Peppi; "Heit, bist it snelst fan jim team?"
Heit; "Jawis!"
Kokki; "Echt?"
Heit; "Jawis,……………… it snelst wurdich………."

Harsens derby (1620)
SDS C1 wûn sneon net mei dûbele sifers en dat betsjutte dat trainer Ferry op harren sjitte mocht op trainen. Reetkurve! Ferry sjit of very shit?